Sosan Theresa Flynn
Guiding Teacher
Sosan@cloudsinwater.org
(available to meet with students)
Sosan began practicing Zen in 1992, was ordained as a Soto Zen Buddhist priest in 1997, and received dharma transmission from Joen Snyder O'Neal in 2012. She enjoys working with lay students, as well as those who wish to pursue priest ordination. For the past 17 years, Sosan has taught beginning and intermediate classes on Zen Buddhist principles, ethical guidelines,  meditation practices and council practice. She has officiated at many ceremonies (daily liturgy, special liturgies, wedding, baby naming, and memorial services), and also offers premarital and couples counseling. Sosan has a master's degree in Counseling Psychology and worked in both community mental health and staff training before coming to work at the Zen center. Since 2015 she has served as the Guiding Teacher for Clouds in Water. Sosan and her husband of 30+ years have raised one son, now an adult who brings them great joy. They live a short distance from Clouds in Water with their three cats.  Sosan's website
Kyoku Tracey Walen
Kyoku.walen@cloudsinwater.org

(available to meet with students)
Kyoku began practicing Buddhism in 1998, was ordained in 2008 and given Dharma transmission by Byakuren Judith Ragir in 2015.  She trained from 2008-2010 at Great Vow Zen Monastery with co-abbots Jan Chozen and Hogen Bays. She also studied Zen sewing of robes and vestments with Tomoe Katagiri and became one of her successors in 2014.  She has a background in business consulting and financial management. Currently she serves as a zen teacher at Clouds in Water and the Rush City prison and is a member of SZBA. Beginning June 2018 Kyoku is residing at Hokyoji Zen Practice Community. She will be available one week each month in St. Paul to see students and have practice meetings.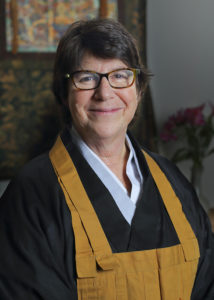 Byakuren Judith Ragir
Senior Dharma Teacher  Emeritus
Byakuren studied with Dainin Katagiri roshi from 1973-1990 at the Minnesota Zen Meditation Center in Minneapolis. In 2007, She was given Dharma transmission by Joen Snyder-O'Neal of Compassion Ocean Dharma Center.  Byakuren was instrumental in founding Clouds in Water Zen Center in St. Paul where she was the Guiding Teacher from November, 2006 to 2015.  She has a background in dance, body-work and Oriental Medicine. Currently, she is working with senior students, writing about Buddhism and making Buddhist Temple Art.   Byakuren's website
Ken Ford
Senior Dharma Teacher Emeritus
Ken.ford@cloudsinwater.org
Ken found his way into Zen practice slowly, beginning with "academic" exploration in his college years, then his first contacts with Dainin Katagiri roshi in Minneapolis in 1976. He studied at Minnesota Zen Meditation Center and Hokyoji with Katagiri roshi and, later, Shohaku Okumura. He has studied at Tassajara monastery and Green Gulch Farm Zen Center in California, and at Clouds in Water where he has been an active member since 1999. Retired from a career as a city planner, Ken is a senior dharma teacher at Clouds in Water Zen Center. He does volunteer work for Nonviolent Peaceforce and participates in interfaith dialogue in the local community.  
Toku Scott
Toku@cloudsinwater.org
(available to meet with students)
Toku took home-leaving vows at Dharma Field in Minneapolis in 2013 and received Dharma transmission from Sojun Diane Martin in 2020. She worked professionally as a newspaper and magazine editor at various Twin Cities publications for 30 years. One of her pivotal life experiences was accompanying her wife Cathy on her long journey of living and dying with cancer. She is interested in working with students to live authentically in the Dharma, no matter what their life circumstances.
Myo-On Susan Hagler
Myoon@cloudsinwater.org
(available to meet with students)
Myo On Susan Hagler feels fortunate to have been able to practice with Katagiri -Roshi. She was ordained by Tim Burkett in 2003 and received dharma transmission from Dokai Georgesen in August of 2018 and has practiced at Minnesota Zen Meditation Center, Hokyoji Zen Practice Community, Green Gulch Farm in CA and other twin cities zen centers. Myo On attended the first unit of chaplaincy training at Gunderson Hospital in LaCrosse, WI . Friendliness and open heartedness are the foundations of her practice.
Myoshin Diane Benjamin
Lay teacher
Myoshin@cloudsinwater.org
(available to meet with students)
Myoshin began practicing Buddhism in 1996 and received initiation as a lay dharma teacher-in-training in the fall of 2017 from Sosan Flynn. She taught for over a decade in the children's program at Clouds in Water, and has practiced at Hokyoji and Ryumonji monasteries. She has worked for many years in the nonprofit and philanthropic sectors, and is also a musician. She lives in Minneapolis with her wife and daughter.
Teachers in Training
Taizan Alford
Taizan@cloudsinwater.org
Taizan took home-leaving vows (shukke tokudo ordination)  at Clouds In Water Zen Center in 2016 with his teacher Sōsan Flynn. The journey with meditation began through the yogic path in the mid 1980s. He has been a yoga instructor since 1998. When not at Clouds for training, you can find him sitting most Saturday mornings in Appleton, Wisconsin with the Joyful Mind Sangha at the FVUUF; hanging out with his husband Tom; or singing and playing music around the midwest as a part of  the duo Cypress Dreams.
Kikan Mike Howard
Kikan@cloudsinwater.org
Kikan has been studying Zen Buddhism since the late 1990's. He was ordained by Sosan in 2018, and is the Youth Practice Leader at Clouds in Water. In his spare time, Kikan is an independent app developer and cat wrangler.
Katheleen Avila
K.avila@cloudsinwater.org
Katheleen has been practicing in the Buddhist community for the past 20 years. She began studying with Joen Snyder-O'Neal at Compassionate Ocean Dharma Center and received jukai in 2008. Katheleen's dharma name is Keian-unfolding peace. She has been practicing at Clouds in Water for a number of years where she has been an active member. In May, 2019 Katheleen was initiated by Kyoku Tracy Walen to continue studying to be a lay teacher and given the name Yakuson-medicine mountain.